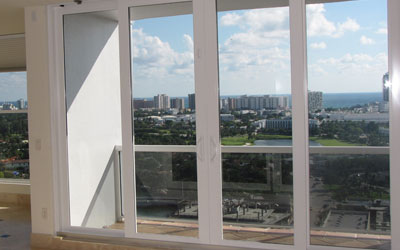 Impact Windows Stringent Guidelines
P & M Window and Doors' products are installed under the most stringent guidelines in the industry and to the exact specifications of each opening.
Every window and door installed is manufactured to the most exacting standards. With an exact fit, and a quality installation the window will perform to the highest standards and most threatening conditions. Our Window and Door products provide year round convenience and protection against hurricanes and intruders. Impact windows need no exterior shutters or coverings, which means that unlike shutters that must be closed and offer no visibility during a storm, impact windows create an open and comfortable environment during the harshest weather Our products have been manufactured to ensure the architectural authenticity of your home. The raised muttons, painted finishes, custom colors and wide selection of glass and hardware options truly add to the elegance of your home or condominium.
You can expect to drastically reduce your energy costs over the existing regular single pane glass. With our certified installers and our company installation techniques air infiltration will be eliminated which will minimize heat transfer between the interior and exterior of your home. Our products are available with multiple glass thicknesses, insulated glass and Low Emissivity options to maximize thermal efficiency and additional comfort in your home.
Impact Window Maintanance
Impact windows and doors are recognized by insurance companies as Class A protection. This protection classification entitles homeowners to a reduction of up to 40% in premium discounts. Check with you insurance company for details.
Laminated glass will reduce 99% of the ultra violet rays that damage and fade delicate art, upholsteries, carpet and other valuables in your home. Impact windows are designed to achieve significant reduction in the transmission of sound. The combination of laminated glass and minimal air infiltration provides for a quieter and more enjoyable way of life.
P and M Siding Contractors offers free estimates with competitive prices. Please call us today to speak with one of our knowledgeable and courteous sales representatives.
561-791-9777 | pmsiding@yahoo.com